It all started with a Community Garden
YEARS OF EXPERIENCE IN SOCIAL IMPACT
Growing up in a farming community in Bafut – Cameroon, where gardening was a compulsory subject in primary school, Joshua Konkankoh developed an early passion for working on the land.
Until 1996, Konkankoh was running a gardening company called Royal Gardens. Besides selling gardening services, he bought 5 acres of land in a previous landfill, in Yaoundé, and created a community garden for the youth to have access to land to develop their own pathways in life.
Broad Expertise Grounded in Nature
Aligning different components of initiatives in ways that are nature-based.
Non-formal education practices that are based in indigenous wisdom.
Leadership development, consultancy and rites of passage.
Guiding ceremony, ritual and spiritual development.
Serial founder impact community management projects, such as an award-winning eco-village.
Committed to reinventing African wisdom`s place in a new thriving global culture.
Guided many rites of passage initiation for youth and change leaders.
Joshua Konkankoh
is a broker and facilitator in
South-North Partnerships
between change organizations that work to amplify systems change.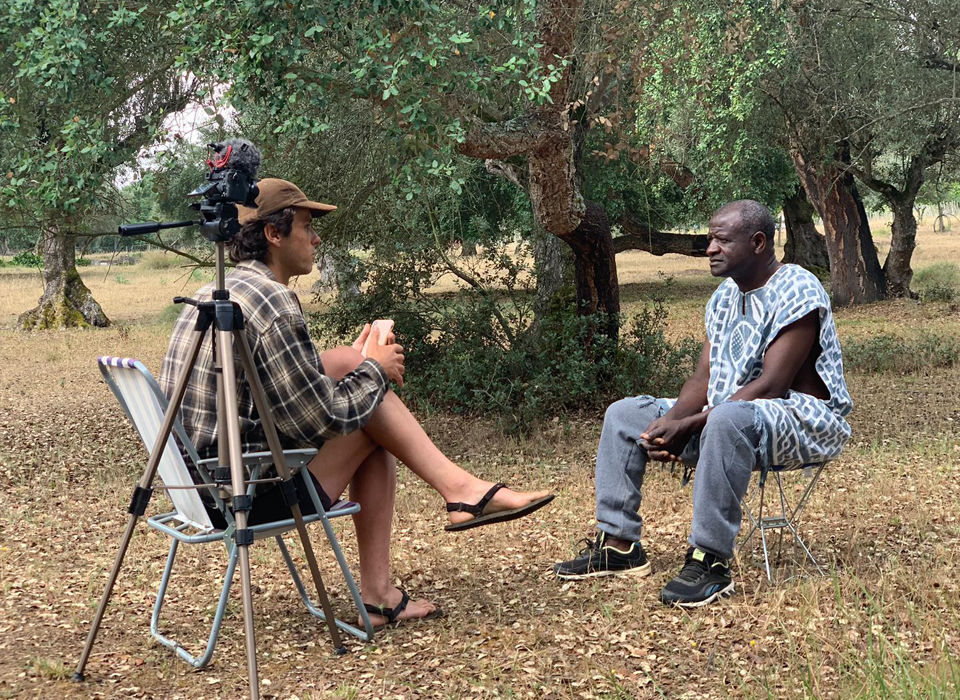 Joshua Konkankoh

is a cameroonian indigenous elder and social entrepreneur

who combines regenerative education, permaculture, and environmental leadership to reduce social inequalities. Konkankoh can provide spiritual guidance, indigenous perspective and his vast expertise in building social movements.
I guide & orientate
farmer's community initiatives
in reviewing themselves by adopting
African Practical Wisdom.

I am a social entrepreneur and consultant providing advisory services in trust relations for quality and impact in community development, education and social governance.
As an indigenous environmental leader I weave networks that enhance South-North Partnerships whilst reducing social inequalities.
I offer a wide range of learning opportunities for assessing the design and implementation of learning programs and projects based on the ethics, principles, and strategies of sustainable development, gathered during my 3 decades of work in Better World Cameroon using system's thinking to improve connections and learnings from African wisdom aligned to the UN SDG Goals.
With a background in social communication (Communication Officer and Public Relations) for the National Social Security Department of Cameroon (22 years of service), alongside a degree in Environmental Journalism and Institutional Communication (1996), I have been involved in facilitating cooperation between public services, international founders and equitable trade.
I am also a serial founder of impactful community projects, such as the award-winning Bafut Eco-village, Ndanifor Trust, African Way, and Indigenous & Modern.
My passion for work entrepreneurship and social innovation led me to the establishment of long-standing NGOs: I registered Better World Cameroon in 1996, became a CEO, subsequently founding the Bafut Ecovillage in 2011, which became a UN-recognized reference center for sustainability, a model of environmentalism "the African Way".
Early in my career, I established a prototype and pilot, Ndanifor Community Garden in the Capital city of Cameroon, founded as a space for initiation of unemployed graduates into responsible adulthood to develop their own self-reliant pathways, find their identities and ultimately, livelihood.
I have facilitated trainings for hundreds of young women in African Permaculture, "girl's led" one family one garden peace projects, and home-grown regenerative food systems for refugees and internally displaced persons. Knowing rural and agricultural realities in Africa first hand, as I grew up on a cocoa and coffee farm in Cameroon, I put women and youth at the heart of sustainable development.
I have also completed a variety of training in social, ecological and economic systems design which comprise a rich and diverse toolkit of my consultancy. Since 2013, I participated in an Ecovillage Design Education leadership training (part of the UN Decade of Education for Change Makers); I obtained a diploma in Integral Design from Gaia University and completed the ILO Consultancy Training.
Subsequently, as co-founder of African Way and co-founder of Indigenous & Modern, a think-thank for advocacy and policy design, my work continues to support reinventing African wisdom's place in a new thriving global culture.
My ultimate goal is to raise a new generation of leaders, who are equipped with the wisdom and character required for leadership that makes a difference in the world. Leadership that does not simply seek to fulfill personal ambition but rather furthers the sustainable development of people and communities around the world.
As a member of the Councious Food Systems Alliance – CoFSA "Breathing Room" and inner council, I am committed to further contribute in the collaborative efforts to establish UNDP as an internationally recognized model of community engagement in regenerative agriculture, to maximize impact and responsiveness for equitable trade, Climate Justice and Regenerative Education.
With all of the above experiences I will contribute my experience in social innovation and local governance adaptation, bringing the indigenous knowledge from Africa and Europe in connecting people with each other in pursuit of global change.
Text based on the motivation letter for UNDP